On June 8 the Church of Jesus Christ of Latter-day Saints commemorated the 1978 revelation extending the priesthood to all worthy males regardless of race. My wife and I had procured tickets and showed up early to get good seats. Approaching the north gate of Temple Square I noticed 2 or 3 protesters.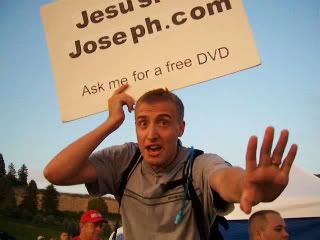 From a block away I recognized the first; I had first met him at the Manti pageant, as pictured here. It was Aaron Shafovaloff,1 a young, trim man with a missionary haircut, a large camera hanging around his neck over a dark blue t-shirt; he held a small placard over his head. Other than at Manti, I'd seen him wandering around outside Temple Square and I'd read his stories of preaching against Mormonism by approaching couples leaving a quiet Temple session on Friday nights. Aaron moved his family to Midvale, Utah because he believes he has a mission to the Mormons, to save them from a "counterfeit Christianity." He believes his preaching and sign holding is much like the conversation Jesus had with the woman at the well in John 4, firm but loving. When I saw Aaron in Manti his firm loving involved much more shouting than I picture the Savior using at the well. My wife and I watched as he shouted about false gods for about 15 minutes before taking a break and being replaced on his box by another preacher who continued where he left off. In one online conversation Aaron expressed his admiration of the Savior's method of ministry, then went on to defend his self-titled "sin-challenging stranger-evangelism" using words like "bloviating," "ilk," and "hot air," his version of "scribes! Pharisees! Hypocrites!" I presume. His voice on Sunday was much more quiet, but one thing is certain: Aaron has very strong convictions.

By the time I reached him he was speaking with Church security agents and a lawyer. The lawyer was showing Aaron the permit acquired by the Church designating a 25-foot stretch of sidewalk as a protest zone reserved by the Church. He explained Aaron had to move, but Aaron was arguing his case confidently. He seemed to believe he had the rules down, insisting "I can walk through here."

"No, I'm afraid you can't."

"Yes, as long as I keep moving," he said, pantomiming a little back-and-forth march. His demeanor was calm but persistent; much different from the haranguing yell I remembered from Manti. I butted in, "Shaf, let's just move along." He was caught a little off guard and I stepped toward him to talk. "Why not just go across the street?" I flatly suggested. Apparently my tone was unfriendly, and Church security had other plans for dealing with Aaron; they asked me to step back. After doing so I explained what I knew about Aaron from prior encounters and then watched them until Aaron crossed the street stopping in front of the crosswalk leading from the Conference Center to the north gate where he stood, occasionally pacing with a dead smile on his face. He looked only slightly uncomfortable. I could see him making comments to passersby, and when no one was walking past he would wave at passing cars. It reminded me of the people I see with the statue of liberty hats and robes holding placards advertising the services of Liberty Tax, or the Little Caesar's Pizza "Hot N' Ready" walking human advertisements. Over on the lawn three other protesters from Aaron's group stood in the shade holding a placard advertising the same website for the Mormon Research Ministry. All told, they looked rather outnumbered. Most of the people who passed them didn't stop to talk, but would suppress nervous giggles as they continued walking. Some rolled their eyes. The biggest reaction usually came from apparent tourists (the short shorts and sleeveless shirts are dead giveaways) who would look on with amusement or disgust, or sometimes with a questioning glance. They usually stared the longest.

Soon Lonnie Pursifull, the preacher I'd spoken with at the Manti pageant and General Conference, arrived and parked in the very spot Aaron had been asked to vacate directly in front of the north gates. Lonnie travels a lot, protesting at Manti, Mesa, Arizona, Palmyra, New York, Nauvoo, Illinois, and Salt Lake City, among other places. He's even been known to protest other protesters.2He was wearing the same getup I'd seen so many times: camouflaged pants, a red T-shirt saying "JESUS SAVES FROM HELL," a fluorescent orange vest with various scripture references listed in black letters, an oversize leather tool belt filled with Chick Tract comic books and a huge sign saying something like "The Official Anti-Mormon Literature: The Holy Bible." I noted the LDS garments hanging from his belt, dragging along the ground. I laughed a little, remembering a conversation Lonnie, my wife and I had in Manti (Lonnie is the one on the right):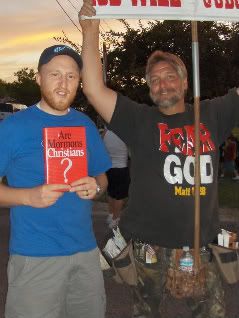 "Some of the protesters can be pretty mean in Salt Lake. The paper reported that some of them were yelling at women and children, calling them whores. That would be hard to believe, had I not seen it myself."

"Really? Yeah, some of these guys get a little out of control. I'm not with them. I'm my own preacher out here, just trying to deliver the Word."

"You know, some of those protesters at General Conference have been known to wave around LDS garments" (I wasn't sure if it had been him or not, so I thought I'd ask).

"Really?"

"Yep. What would you say about something like that?

He denounced such disrespect, assuring me that his method was preaching the word of God and that he didn't need such offensive tactics. But yet here he was, with underwear hanging from his belt. Why he felt the need to lie about his behavior- or whether he even recognized the lie- I'll never know. Pacing before the gate he started in, shouting and preaching. Two choirs had gathered on either side of the gates doing their best to coordinate singing hymns. They had two directors, one on each side, and almost invariably one side would lag behind the other creating an interesting stereo sound. And Lonnie started in; his loud, hoarse voice crying repentance against the wicked Mormons.

"Your Church is false, it has no revelations! Your revelations were man-made because your leaders didn't want to lose their tax-exempt status!"

The Spirit of God like a fire is burning, the latter day glory begins to come forth...

"Brigham Young and Joseph Smith can't save you! They aren't your savior! They are burning in hell! Brigham Young, he likes 'em young!"

We'll sing and we'll shout with the armies of heaven, Hosanna! Hosanna to God and the Lamb!

The choir moved on to "Put Your Shoulder to the Wheel," I had no doubt Lonnie might want to sing right along with them as he pushed along, doing his duty with energy and determination; he wasn't shirking, that's certain. Several news cameras crouched in front of him capturing the moment. I watched, hoping to see the camera pan out and show his lone figure contrasted with sparse pedestrian traffic, a few dozen singers, and one other sign carrying protester in the distance. From what I could tell, however, they remained zoomed in on the man and his sign.

I wondered if he would recognize me so after the cameras were gone I stepped forward as he shouted and I said his name, which stopped his preaching for a moment, the thought of being interrupted on his face. His garments had come loose and fell to the ground and as he reached to pick them up and loop them around his tool belt it was my chance. I introduced myself and told him we had spoken before. His demeanor was much different than I remember in Manti; the general affability and almost jolly forthrightness was replaced with a certain wariness and skepticism; he adopted a tough guy persona. As in Manti, I knew the best way to cease the shouting was by engaging in conversation. (Aaron Shafovaloff and his ministry was already wise to this. In Manti they would work in teams, something of a Bible-buddy system: one person to answer questions so the other could continue yelling. Lonnie was alone.)

Any question would do, really. I asked him about the upcoming election. Lonnie is a self-styled independent Baptist, so I asked "How about that Huckabee?" (a great candidate, a shame he was defeated). I asked about the Constitution (it's all in the Bible, book of Isaiah, of course). I asked about Alan Keyes (a wonderful, brave soul. He tells it like it is and this nation will suffer for rejecting the word of God). After about fifteen minutes of this back-and-forth our conversation was interrupted by the attorney who had spoken with Aaron earlier. He showed Lonnie the choirs held the permits to demonstrate on the sidewalk in front of the gates; he'd have to move along. Unlike Aaron, who put up a token fight and capitulated, Lonnie refused, and was told the police would be contacted. He said "Good!" backed away a foot or two and resumed shouting. I attempted to resume our conversation, but he wasn't going to stop to talk this time. I fell back into the choirs.

For God remembers still his promise made of old...

"I don't need any permit...to preach the word of GOD!"

that He on Zion's hill truth's standard would unfold!

"I don't need any permit...to preach the word of GOD!"

When two police cars showed up the officers didn't approach the preacher, unless they did so after 6pm when I had gone into the Tabernacle as the commemoration began.

Her light should there attract the gaze of all the world in latter days...



Footnotes:

[1]
I hesitate to mention Aaron Shafovaloff by name. Perhaps doing so may encourage his efforts. Truth be told, I believe his efforts actually serve more to strengthen the faith and determination of members of the LDS Church much more so than damage the faith. He feels he has been called "by the Holy Spirit" to preach his Protestant theology to members of the LDS Church along the Wasatch Front, which consists largely of the typical anti-Mormon rhetoric. He has made efforts to specifically target youth, as well. My first encounter with an anti-Mormon came at age 16 at a bookstore in Nauvoo, Illinois. An older woman sitting behind a table welcomed me into her "Mormon" bookstore, but it quickly became apparent that this store didn't carry typical LDS fare one might find at Deseret Book. I believe it was at that time I became much more interested in learning more about the Church ans my faith, thus I credit her efforts with strengthening my faith in God and His restored Church.


[2]

James White, a vocal critic of the LDS Church, has been mocked by Lonnie, who made signs against White, using them at General Conference. Lonnie disagrees with White using a different translation of the Bible, among other things. This could only have caused confusion among passersby. White posted a youtube video and blog entry on the incident. Jason Wallace of Christ Presbyterian Church interviewed Lonnie on his program The Ancient Paths in April 2008. He confronted Lonnie's abusive tactics. See the video as posted on The Ancient Paths blog. At the 27 minute Mark Lonnie is strong to oppose the accusation that he blew his nose with a pair of LDS garments. He's waved them around, threw them on the ground, and referred to them in crass terms, but says he hasn't blown his nose on them.